19 October 2018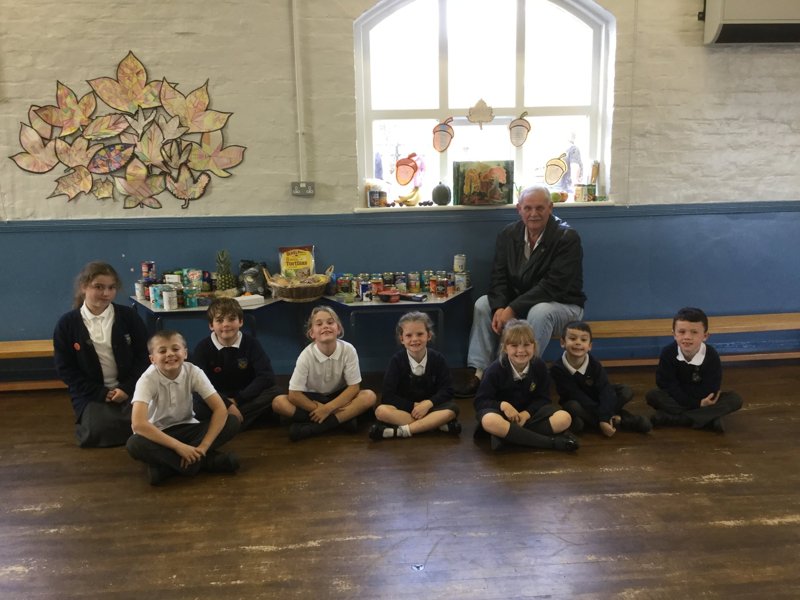 What a lovely day for a Harvest Assembly. So many donations and some lovely fresh food parcels. Thank you to all of you.
School Council
This morning Miss Binns and Mrs Holland accompanied the School Council as they distributed food parcels around the village. School Council really enjoyed doing this and it was lovely to meet so many people from around the village. (It was also a great way for Miss Binns to get to know her way around the village too!)
We had so much to hand out that Miss Binns and Mrs Clarke had to go out again in the afternoon with 2 of our Council Members.
"It's a lovely thing to do. It makes me feel really good seeing people so happy with our harvest gifts," said one Class 4 council member.
See our gallery here to see how busy School Council have been today.
Harvest Assembly
Each class has worked hard over the past week to produce something for the assembly.
Class 1 told us all about the vegetables they had cut up and made soup with. Some of the vegetables they had used to create some beautiful artwork.
Class 2 performed a Harvest Poem and shared the symmetrical leaf prints they had made using polystyrene and paints.
Class 3 performed a longer Harvest Poem, complete with actions. They have been using this poem to help them write their own season poems in class.
Class 4 also had a poem to perform, this time it was an Acrostic Poem, with carefully thought out ideas about what Harvest is today and what it means to them. They had also created some art work, inspired by 1950s pop art.
Reverand Dyllis then said a few words, sharing her story of the Little Red Hen, looking at the importance of working together as a team and how it important it is to say thank you.
At the end of the Harvest Assembly, Colin came from the Fleetwood Food Bank to thank us for our donations.
Please see our gallery here for additional photographs of the Harvest Festival.